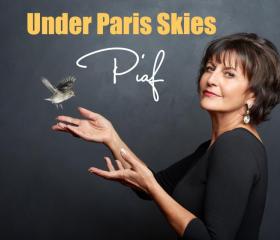 From September 13-October 23 proof of first vaccine required for anyone over the age of 12, along with government issued ID for those 19+.
UNDER PARIS SKIES –Piaf & Dietrich
Music Inspired by the City of Love
Music lovers will have the chance to see the incomparable Edie Daponte again as she performs her sell out show Under Paris Skies.
Edie returns to the Charlie White Theatre with another show and another language to add to her repertoire! Prepare to be transported into the world of the European music hall: with songs, live band, stories and entertainment. This time Edie will explore Edith Piaf and her contemporaries including the glamourous and unique Marlene Dietrich. Singing in English, French and German, she'll bring you characterful versions of familiar and lesser-known numbers - all brought together with emotion, drama, sparkling costumes and Edie's trademark humour. 
Joining Edie are long-time collaborator Joey Smith on bass, and Vancouver Island favourites, Karel Roessingh on piano, Aaron Watson on accordion and guitar and Jonathan Eng on percussion. Share the intimate theatre atmosphere and enjoy Edie's soulful and captivating renditions of the music inspired by the city of love.
"Wonderfully playful...DaPonte's Piaf is stunningly accurate, vibrato and all backed by a veritable who's who of Victoria jazz musicians."
Don Descoteau, Monday Magazine
"Edie steals the show channeling Piaf in this intimate theatre experience!"
Deborah Rogers, Seaside Magazine
"A true talent"
Robin Burns, CBC All Points West
________________________
Please note: all exchanges, gifting, or reselling of tickets must be done through the Mary Winspear Centre box office in order for us to conduct pre-screening, seat assignment, and contact tracing protocols.
If you are feeling unwell, have any COVID-19 symptoms, have been asked to isolate, or have been around someone who has been asked to isolate, tested positive for COVID-19 in the past 14 days, or been in contact with someone who has tested positive for COVID-19 in the past 14 days, please do not attend the concert and contact the box office. For your well-being, the Mary Winspear Centre will provide hand sanitizers and facemasks.
In accordance with the current BC Provincial Health Orders seats will be assigned to audience members by MWC staff until further notice.
*Ticket holders who have purchased specific seats: these seats are null and void; MWC staff will be assigning seats to all patrons in order to comply with BC Provincial Health Orders.
1. Arrive with your entire cohort and enter through the theatre lobby doors, located past the main entrance to check-in.
2. Paperless event.
3. Masks are mandatory in all public spaces, this includes while seated in a designated seat.
4. The Charlie White Theatre has recently been examined by our trusted HVAC Technician. Fresh air-flow is ensured at all times.
5. The Theatre is used in such a way that the whole space is utilized for seating patrons.
6. No intermission: Pre-ordered drinks and Artist merchandise will be served to you at your seats by a MWC volunteer. Maximum of 2 alcoholic drinks per patron at a time.
7. You may also order drinks during the concert –again brought to you by a MWC volunteer. Please text 250-880-7826 and include the cohort number we provide to you on a slip of paper at check-in. Maximum of 2 alcoholic drinks per patron at a time.
8. Cleaning/disinfecting of entire space before and after each performance.
9. No outside food and beverage permitted. You may bring a water bottle.
10. Mary Winspear Centre representative(s) present in house to monitor/ensure this plan is being followed.