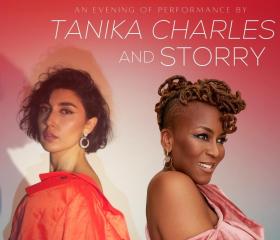 An Evening of Performance by Tanika Charles and STORRY
Tuesday, January 24, 2023 - 7:30pm
Toronto-based 2x Juno Award nominee and Soul music power house Tanika Charles has slowly but surely inserted herself as a staple of the genre both at home and abroad. Her music revels in honesty and attitude, her live show is high energy and endearing, and she continues to win audiences over one album, one stream, and one encore at a time. Long time fans will recall her earliest recordings proclaimed that if she could, she would spread her wings and fly. And now this Night Butterfly has proven she can soar.
In 2016 Tanika independently released her debut album Soul Run, which would be re-released internationally through the Milan-based label Record Kicks in 2017. In 2019 she followed that up with the album The Gumption featuring songs like "Tell Me Something" which quickly garnered over a million Spotify streams. Both albums were long-listed for the Polaris Music Prize, and were nominated for the Juno Awards R&B/Soul Recording of the Year in 2018 and 2020. Tanika was honoured to be awarded the inaugural Polaris Prize artist-in-residence for 2020 at the Studio Bell National Music Centre in Calgary.
Tanika's latest album is Papillon de Nuit: The Night Butterfly. Recorded in and out of pandemic lockdowns, it was released on April 8th, 2022 through Record Kicks internationally and Tanika's own label Unique Applause in Canada. Papillon again follows Tanika's formula of marrying classic soul influences with modern sensibilities and features the songs "Frustrated", "Million Ways", and the disco-infused lead single "Different Morning" featuring Toronto rapper DijahSB. The album received widespread critical acclaim and again earned a Polaris Music Prize long-list nomination.
Tanika has embarked on numerous domestic and international tours since 2017, performing in front of many thousands of fans across a dozen countries. Tanika's live show oscillates between faithful recreations of her studio recordings and revealing influences of rock, gospel and country.
STORRY is a multidisciplinary artist who writes and produces her music, and is intrinsically involved in all aspects of her career from designing album covers to directing award-winning music videos. Her debut concept album 'CH III: The Come Up' was produced and released independently, and was nominated for a 2021 JUNO award for Adult Contemporary Album alongside Celine Dion and Alanis Morrissette.
Though rooted in R&B Soul, STORRY is at home in many genres from opera to reggae. Her single 'Another Man' was produced by reggae royalty Sly & Robbie, and also nominated for a 2020 JUNO award.
Her second release, 'INTERLUDE-19' is a conceptual EP of virtual collaborations in an array of emotions and genres, completed while in isolation due to the COVID-19 pandemic.
Born and raised in Toronto, Canada to Lebanese and Greek parents, STORRY is a sex-positive, queer, feminist, left-brained artist who is pushing culture forward. Her art is raw and honest to the max. If it doesn't touch you, it'll hit you in the face.