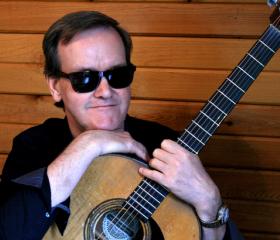 From October 24 onward proof of second vaccine required for anyone over the age of 12, along with government issued ID for those 19+.
Deep Cove Folk Music Society proudly presents
ROY FORBES
ROY FORBES. OVER FIFTY YEARS A MUSIC GUY.
'… a curious cross between the nasal insecurity of a Neil Young and the confident swagger of a Jackie Wilson.'
Jeani Reid, Vancouver Province, November, 1971
'On his 11th album, the Canadian folk fixture from Dawson Creek offers up another collection of soulful numbers that range from an almost La Bamba-esque early rock 'n' roll sounds ("Don't Let Go"), to beautiful country folk balladry ("The Beating of Your Very Own Heart") and sweet blues ("Feeling Mighty Lonesome"). As always, his quavering tenor is powerful and full of emotion.'                                                              
Stuart Derdeyn, Vancouver Sun/Province, February 2020
Way back in the day, one of the really exciting things about folk festivals and folk clubs was the chance to hear the 'legends' – the folks who had made the music when most of the audience was still in diapers. It was Sonny and Brownie, John Lee Hooker, Bill Monroe, Rose Maddox, Earl Scruggs, Ed McCurdy, Buddy Guy & Junior Wells, Ramblin' Jack Elliot and all those others. They'd been there and done it. We thought they were old and we hung on every word and every note, somehow knowing we were in the presence of something important.
Roy Forbes is an organic bridge to those times and those folks. For instance, in the early 70s, eighteen-year-old Roy Forbes (as'Bim') did one of his first tours with blues legend John Lee Hooker, travelling by station-wagon, braving the snowy January B.C. highways, absorbing tricks of the trade that make him one of the finest live acoustic performers anywhere. Roy played at festivals, coffee houses clubs and in concerts with a bunch of the others - learning from them as they did from the ones whose shoulders THEY stood on.  
Today Roy Forbes is a 'veteran', part of the generation that came of age in the late sixties, early seventies that just happened to refashion popular music. Like those other 'legends', Roy today is at the top of his game and able to hold a crowd spell bound, whether a few hundred at a workshop or ten thousand in front of a main stage. Audiences melt in his hands. They sing, they clap, they laugh, they cry, they think. As a songwriter Roy crafts brilliant little stories that can be told in under five minutes. They are vital and appealing enough that he has received the ultimate songwriter's tribute- a myriad of other artists have covered his songs. As an interpreter Roy has put his personal stamp on brilliant gems by other writers, from Chicago bluesman John Brim to country icon Hank Williams, making them his own.
After fifty years, Roy Forbes remains one of Canada's favourite and best-loved acoustic artists and continues to create and perform great music.