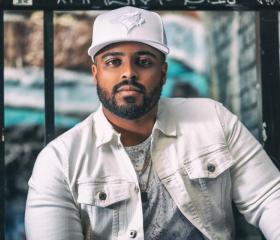 Thu, Sep 3, 7:30 pm
to
Sun, Sep 6, 9:30 pm
JOJO MASON
EXCLUSIVE CONCERT SERIES
4 NIGHTS • 50 PEOPLE
SEPTEMBER  3-6 - 7:30 PM
Sponsored by: National Bank Financial • Yzenbrandt McClinton Wealth Management Group
 
For 604 Records recording artist JoJo Mason, the past three years have been an incredible journey.
Now, with five Top 10 tracks under his belt, the BC based two-time CCMA Rising Star Award nominee is ready to hit the ground running once again, and he's more than excited to see what's on the horizon.
"Future", Mason's aptly titled lead single from his 2019 sophomore EP "Chapter Two" is closing in on four million streams, quickly becoming his highest streamed song to date. The track peaked Mason's interest immediately, notably blending two of his favourite genres; country, with a little bit of soul.
Written by Nashville singer/songwriter Mitchell Tenpenny, "Future" paints a vivid picture of what can happen when that one unforgettable moment occurs that changes your entire life, in ways no one could ever imagine, and for Mason, the song is nothing short of a game changer.
Second single "Better On You" – another Tenpenny-penned track – highlights the more sensitive side of Mason. The Top 3 song has become his highest charting single to date, and is currently closing in 3 million streams respectively while his current single "As If We Won't", released November 25, 2019, has over 118K streams and is steadily climbing the charts at Canadian Country Radio. Co-written by Tenpenny, Lindsay Rimes & Matt Rogers, "As If We Won't" switches gears from the approachable romance of "Future" and "Better On You" and rides the rollercoaster of an on-again-off-again love that neither person is ready to let go of.
Where Mason shines brightest is in showcasing the dynamic, relatable layers of relationships through his sparkling vocals and larger than life, vibrant personality, and he is more than happy to continue providing the soundtrack for love in all capacities.
__________________________________________________________________________________________
COVID-19 PLAN
Your safety is our priority. We will be taking all measures to provide a safe, sanitized and comfortable concert setting, following current regulations provided by the provincial government and Worksafe BC. Each evening we will only be selling a maximum of 50 tickets, you and your guests will be seated with appropriate social distancing in between you and the next concert goer, and additional entrances and exits will be used to load in and out of the theatre. If you are feeling unwell or have symptoms please do not attend the concert and contact the box office. The Centre will be providing hand sanitizer and facemasks for those who feel more comfortable wearing them. Masks are not mandatory to attend.
-Staff wearing PPE
-Masks available to attendees
-Specially decorated space for an enhanced concert experience
-Lowered stage – more intimate concert experience
-Creating max ventilation in our largest space (8,000ft hall – doors open)
-Contactless merch – delivered directly to your cohort
-Contactless concession – delivered directly to your cohort
-NO paper tickets, check-in on arrival
-Cleaning/disinfecting entire space before, during, and after
-All patrons will receive a phone call from Mary Winspear Centre staff before event for personalized service
-Come with your own cohort while maintaining social distancing from others
Maximum group size is 6.