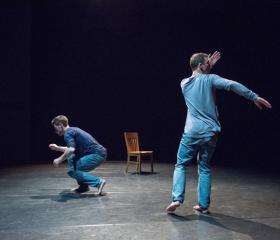 Dance Victoria Presents
John by Helen Walkley
Thursday, January 20, 2022 - 7:30pm
Running time: approx. 55 minutes, no intermission
John is a memoir of choreographer/creator Helen Walkley's oldest brother John, who disappeared from Vancouver in May 1969, never to be heard from again. Walkley sourced her material from an archive of family letters dating from 1959 to 2010, which document the years leading up to his disappearance, his medical history, police reports, and the subsequent tracking her parents did of his disappearance. Performed by two of the top dance and theatre artists of their generation in Western Canada, John is a profoundly moving and strikingly relevant piece that resonates long after the curtain falls. Walkley weaves text with movement seamlessly, in this perfect jewel of dance theatre. John was 23 at the time of his disappearance. Walkley was 13.
Helen Walkley is an independent dance artist, a choreographer, improviser, performer and teacher, based in Vancouver, BC who has also lived and worked extensively in the Netherlands, Germany and the U.S. She holds an M.F.A. in Interdisciplinary Studies from Simon Fraser University and is a certified Laban Movement Analyst and somatic movement educator.
Numerous Artist in Residences have supported the creation and dissemination of her work, and her ongoing collaboration with composer James Maxwell is instrumental to her choreography. She has also performed with improvisation artists Marc Boivin, Peter Bingham, and Lin Snelling. In 2020, Helen received the Dance Centre's Isadora award, peer recognition of an artist's lifetime achievement. You can learn more about Walkley at www.helenwalkley.com
Choreographer: Helen Walkley
Composer: James Maxwell
Lighting Design: James Proudfoot
Text: Helen Walkley and an archive of family letters dating from 1959 to 2010
Performers: Josh Martin, Billy Marchenski
Costumes: Leah Weinstein, Helen Walkley
Set: Helen Walkley
"...moves on levels that transcend straightforward dance." Janet Smith, The Georgia Straight
Photo credit: Chris Randle
From October 24 onward proof of second vaccine required for anyone over the age of 12, along with government issued ID for those 19+.