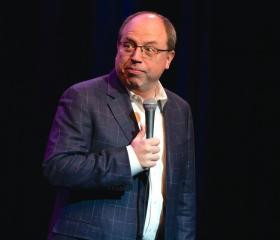 Sat, Oct 17, 3:00 pm
to
Sun, Oct 18, 7:00 pm
BRENT BUTT
EXCLUSIVE COMEDY SERIES
4 SHOWS • 50 PEOPLE
OCTOBER  17 & 18 - 3:00 PM & 7:00 PM
Sponsored by: National Bank Financial • Yzenbrandt McClinton Wealth Management Group
Born in the small farming town of Tisdale, Saskatchewan, Brent Butt discovered early that being funny was a good way to get attention.  Brent honed his comedy in school and at the age of 20 moved to the city to pursue a career in stand-up.  Within a year he was headlining top clubs in Toronto, and within a couple years he was touring internationally and performing at major festivals.   His television appearances quickly secured his reputation as one of the funniest people in the country, but he was also busy creating his own TV series – a sitcom called Corner Gas.  It became an instant hit with unprecedented ratings and numerous accolades including an International Emmy Award nomination, and was named "Funniest Show on TV" by TV Guide readers.  Corner Gas went on to become Canada's #1 comedy, airing for six seasons, and is currently seen in more than 60 countries.  Brent then created another sitcom for CTV called "Hiccups" which starred himself and Nancy Robertson.  They made 26 episodes of Hiccups over two seasons, winning multiple LEO awards along the way.  Brent also made the transition to movies, with the comedic mystery "NO CLUE", and the long awaited "CORNER GAS: THE MOVIE" both of which he wrote, produced and starred in.  Aside from TV and film production, Brent hosts TheButtpod podcast, creates short videos for TheButtpod YouTube channel, and he continues to tour the country performing standup as often as he can.
__________________________________________________________________________________________
COVID-19 PLAN
Your safety is our priority. We will be taking all measures to provide a safe, sanitized and comfortable concert setting, following current regulations provided by the provincial government and Worksafe BC. Each evening we will only be selling a maximum of 50 tickets, you and your guests will be seated with appropriate social distancing in between you and the next concert goer, and additional entrances and exits will be used to load in and out of the theatre. If you are feeling unwell or have symptoms please do not attend the concert and contact the box office. The Centre will be providing hand sanitizer and facemasks for those who feel more comfortable wearing them. Masks are not mandatory to attend.
-Patrons seated cabaret style by Mary Winspear Centre staff
-Staff wearing PPE
-Masks available to attendees
-Specially decorated space for an enhanced concert experience
-Lowered stage – more intimate concert experience
-Creating max ventilation in our largest space (8,000ft hall – doors open)
-Contactless merch – delivered directly to your cohort
-Contactless concession – delivered directly to your cohort
-NO paper tickets, check-in on arrival
-Cleaning/disinfecting entire space before, during, and after
-All patrons will receive a phone call from Mary Winspear Centre staff before event for personalized service
-Come with your own cohort while maintaining social distancing from others
Maximum group size is 6.