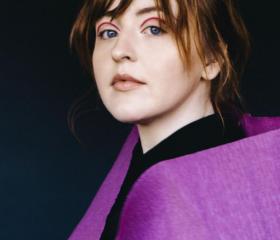 From September 13-October 23 proof of first vaccine required for anyone over the age of 12, along with government issued ID for those 19+.
Seaside Sessions Presents
ALEXANDRIA MAILLOT
Tuesday, October 19, 7:30 PM
Breathing new life into the Canadian music landscape, Vancouver Island "swoon rock" artist, Alexandria Maillot, takes listeners on a journey through lava-lamp-lit bedrooms and rain-soaked roads. Spinning sonic motifs of acoustic wonder and electric drive, Maillot's sound is familiar yet refreshing - a favourite transistor radio playing classic vibes with a contemporary twist. With gritted, nuanced vocals reminiscent of Stevie Nicks, nostalgic narratives paired with the electro-pop playfulness of Alanis Morissette circa Jagged Little Pill, Maillot has been steadily gaining momentum in a post-genre era. Her debut album Time garnered national radio attention and widespread critical acclaim, and now, the budding of a new chapter begins with her full-length sophomore release, Benevolence.
Filming Notice: please be advised that your presence as a member of the audience during the filming/taping constitutes your consent to the possibility of your voice and likeness being used, without compensation, in the unlimited distribution, advertising, promotion, exhibition and exploitation of the program in any and all media by any method or device known or hereafter devised, and you release The Mary Winspear Centre from any liability in connection with such usage.
________________________
Please note: all exchanges, gifting, or reselling of tickets must be done through the Mary Winspear Centre box office in order for us to conduct pre-screening, seat assignment, and contact tracing protocols.
If you are feeling unwell, have any COVID-19 symptoms, have been asked to isolate, or have been around someone who has been asked to isolate, tested positive for COVID-19 in the past 14 days, or been in contact with someone who has tested positive for COVID-19 in the past 14 days, please do not attend the concert and contact the box office. For your well-being, the Mary Winspear Centre will provide hand sanitizers and facemasks.
In accordance with the current BC Provincial Health Orders seats will be assigned to audience members by MWC staff until further notice.
*Ticket holders who have purchased specific seats: these seats are null and void; MWC staff will be assigning seats to all patrons in order to comply with BC Provincial Health Orders.
1. Arrive with your entire cohort and enter through the theatre lobby doors, located past the main entrance to check-in.
2. Paperless event.
3. Masks are mandatory in all public spaces, this includes while seated in a designated seat.
4. The Charlie White Theatre has recently been examined by our trusted HVAC Technician. Fresh air-flow is ensured at all times.
5. The Theatre is used in such a way that the whole space is utilized for seating patrons.
6. No intermission: Pre-ordered drinks and Artist merchandise will be served to you at your seats by a MWC volunteer. Maximum of 2 alcoholic drinks per patron at a time.
7. You may also order drinks during the concert –again brought to you by a MWC volunteer. Please text 250-880-7826 and include the cohort number we provide to you on a slip of paper at check-in. Maximum of 2 alcoholic drinks per patron at a time.
8. Cleaning/disinfecting of entire space before and after each performance.
9. No outside food and beverage permitted. You may bring a water bottle.
10. Mary Winspear Centre representative(s) present in house to monitor/ensure this plan is being followed.